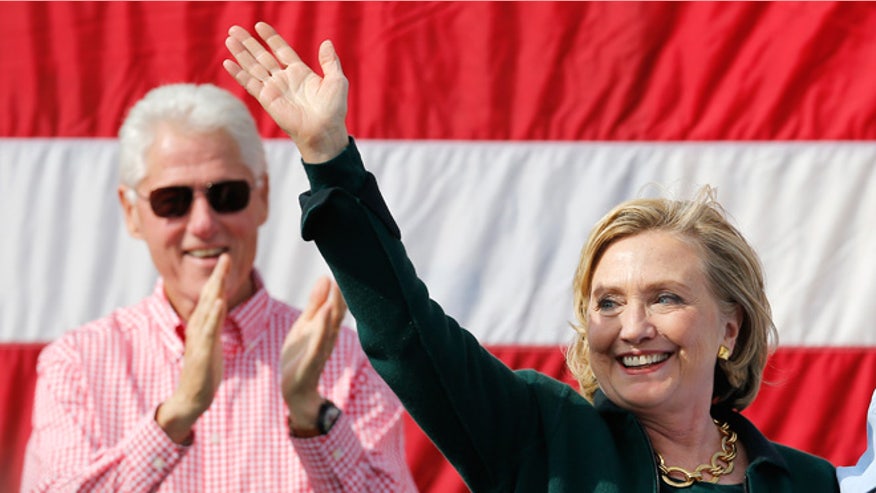 High-level concern was raised in emails at the State Department about former President Bill Clinton's speeches in Saudi Arabia in January 2011, among other things, as the controversy over the alleged conflicts of interest between the Clinton Foundation and Hillary Clinton's duties as secretary of state continues.
The nonprofit watchdog Judicial Watch said it has received, via Freedom of Information Act requests, 126 pages of heavily redacted emails exchanged by the State Department's legal squad, which note discussions about Clinton Foundation activities in foreign countries, indicating concern about conflicts of interest related to the foundation. The emails came via a federal judge's order in a FOIA lawsuit Judicial Watch filed against the State Department two years ago.
Judicial Watch also says the State Department turned over nearly a thousand records to the Clinton Foundation, starting in January 2014, for its review prior to their release to the public. The State Department did not return calls for comment.
One email chain dated June 2010 that included the then-Deputy Chief of Mission in Tanzania, Larry E. Andre and others, was marked "URGENT RE: Clinton Foundation Issue, " and says: "Former POTUS Clinton is on the ground in Tanzania… we need guidance fairly urgently to still be relevant."
Other redacted documents appear to show a rather long exchange between staffers in the department's legal offices about a Clinton Foundation request involving "Saudi entities." The former president was paid $300,000 to speak at an event in Jeddah, Saudi Arabia, in December 2012. That fee, the documents show, was paid by Riyadh-based Tanmiah Commercial Group, which hosted the event.
The documents so far do not indicate whether the State Department's ethics team raised any concerns about this paid speech.  Judicial Watch says it found that Bill Clinton was paid $48 million for speeches he gave while his wife was Secretary of State.
The State Department has said it will conduct a search of email records turned over by the former secretary of state, now running for president on the Democratic ticket.
"The State Department allowed Hillary Clinton to remove and destroy government email records. And now we've figured out the State Department is improperly giving government documents to the Clinton operation – documents that should have been turned over to us years ago," said Judicial Watch President Tom Fitton in a statement. "Our lawsuit, which first exposed the Clinton foreign fundraising racket at the State Department, continues to be obstructed by Mrs. Clinton's political operation. With these revelations of State Department concerns about the Clinton machine's Saudi and Asian dealings, this simple FOIA lawsuit is providing the road map for those tracking Hillary Clinton's abuse of office as secretary of state. In the meantime, the State Department seems to be more concerned about helping Hillary Clinton's presidential campaign than following federal disclosure law."
This week, the New York Times published a report about the State Department's involvement in the approval of the sale of a Canadian uranium mining company to Russia's state-backed nuclear company, Rosatom.
Prior to the sale, a charitable foundation run by the chairman of Uranium One donated a total of $2.35 million to the Clinton Giustra Sustainable Growth Initiative — a subsidiary of the Clinton Foundation — between 2008 and 2012. The foundation has since limited donations from foreign governments to all but six countries.
In addition, author Peter Schweizer's upcoming book, "Clinton Cash," due out next month, has been said to report examples of Clinton Foundation donors getting special treatment from the State Department.
Elizabeth MacDonald joined FOX Business Network (FBN) as stocks editor in September 2007 and is the author of Skirting Heresy: The Life and Times of Margery Kempe (Franciscan Media, June 2014).

Follow Elizabeth MacDonald on Twitter @LizMacDonaldFOX.
Source: FOXBusiness
Total Page Visits: 183 - Today Page Visits: 1