Syrian pro-government forces will help Syrian Kurds fighting against a Turkish offensive in north-west Syria, Syria's state news agency reports.
It comes after Syrian Kurdish officials said the government in Damascus had agreed to send troops.
Turkey regards the Kurdish fighters, just across its border in Afrin, as terrorists. It launched a major offensive against them last month.
Syria has not had a military presence there since pulling out in 2012.
"Popular forces will arrive in Afrin within a few hours to support its people's stand against the Turkish regime's attack on the area and its people," Syrian state news agency, Sana, said.
A senior Kurdish official, Badran Jia Kurd, told Reuters that government soldiers would deploy to some border positions. This has not been confirmed by Syrian authorities.
If a deal has been struck, Turkish troops could find themselves confronting not only Kurdish fighters in Afrin, but the Syrian army too, says BBC World Service Middle East editor Alan Johnston.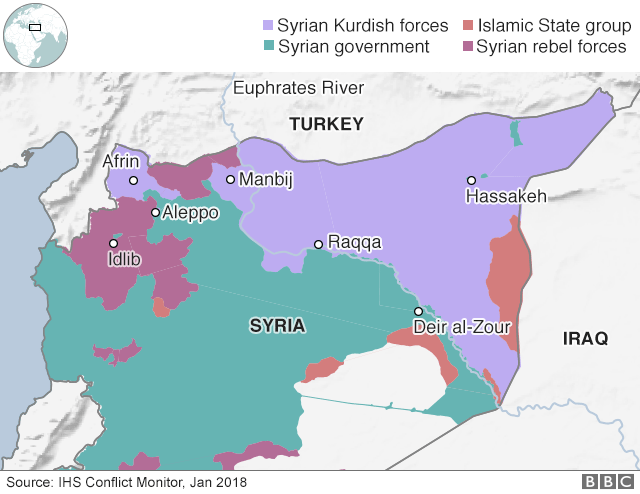 The Kurdish Democratic Union Party (PYD), backed by its armed wing, the People's Protection Units (YPG), has dominated the Kurdish areas of northern Syria since 2012.
The YPG later cleared Islamic State (IS) group fighters beyond the Kurds' self-rule areas, bringing large swathes of territory under Kurdish control.
Turkey is trying to oust the YPG from Afrin because it sees the group as an extension of the banned Kurdistan Workers' Party (PKK), which has fought for Kurdish autonomy in Turkey for three decades.
The YPG denies any direct military or political links with the PKK.
The Syrian military and the YPG have largely avoided direct conflict in the Syrian war thus far but have had sporadic clashes.
Turkey has supported rebels fighting Syrian government forces since the civil war began in 2011 but there has been no direct confrontation between the two powers since Syria shot down a Turkish fighter plane in 2012, killing two crew.
"We can co-operate with any side that lends us a helping hand in light of the barbaric crimes and the international silence," Mr Jia Kurd said.
However, he warned that the purported agreement – which he said did not include any political arrangements – could fall through.
Northern and north-western Syria hosts a complex mix of alliances between different international and regional players.
The situation is further complicated by the YPG militia receiving funding from Turkey's Nato ally the United States, as partners in the fight against IS.
Source: BBC